Have a beautiful website for only

$150.00 today
Responsive Website Design Made Easy
Choose from our 150+ Pre-Designed Ready To Import Websites
Dedicated Pro HelpDesk Support
Our Geeks provide top-notch help & support for all of our services. Whether we build & fully manage a website for you – OR – We build a website together using our easy drag & drop WordPress website builder, trust that you will always reach one of our Geeks and not a foreign call center. We speak clear English without all the geek speak and are located in the State of Arizona. We try to be as convenient as possible, you can even send us a text message.
At Responsive Geeks we design nothing but Responsive Websites – Hints our name 🙂 . Responsive websites scale nicely to fit on any screen size making them MOBILE FRIENDLY.  This is super important because a ton of potential customers are searching Google from their smartphone or tablet to find services they need in their area. If your website isn't responsive, your mobile website visitors are likely to leave immediately after loading your website because it's too hard to navigate.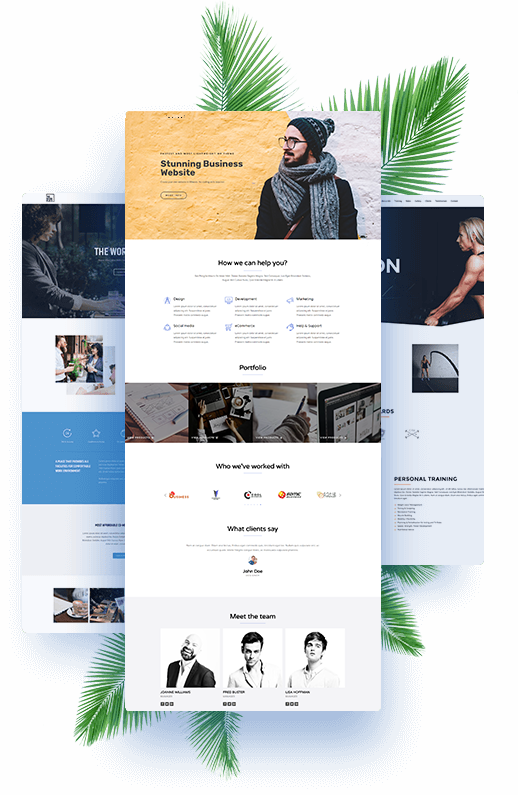 You can go straight custom design for your website – OR – We have a ton of fully customizable, ready-to-import websites. Choose from our 150+ and counting pre-designed website layouts. All of our websites include the option to make changes or additions yourself with an intuitive drag & drop WordPress page builder and live editor.  We can build a website for you or let's build one together and know our Geeks are here to help.
Beautiful WordPress Layouts
WordPress is an excellent choice for small business and personal website design – That's why we chose it as our main platform.  It's so widely used that you can integrate just about anything you can imagine, from social media and blogs to online shopping carts, digital marketing and automated business software. We are dedicated to helping small businesses succeed online by strengthening their online presence and boosting their search engine rankings.
We've Partnered with the Best in WordPress
Google Search Results
Where does your Business Rank?
If your business already has a website and you don't show up on the front page of Google for the services you offer in your area, then you need professional help… Search Engine Optimization (SEO) is critical – Even if you don't have a brick & mortar!  There are a ton of consumers that search Google on a daily basis for local services that businesses offer whether it be landscaping, cleaning services, handyman, pest control, computer repair, retail, and dining, etc.  You are losing out on a lot of potential customers if you don't have a website that ranks high on Google search results.
Responsive Website Design
Leave the technical stuff to our Geeks!
We do all the complicated stuff for our clients. We configure & manage the web server and your WordPress hosting account.  We also manage DNS for your domain name and even install & manage SSL Certificates for you.  Just as long as you are hosting your website with us our Geeks have got all the technical stuff covered.  With tons of our fully customizable, pre-designed websites, you really have the option here to pick a website design that you truly love.  Be proud of your website.  It can be the least paid and hardest working team member you've got. Think about it – Your website can market and run parts of your business 24/7/365  – It never sleeps.  And honestly for a very affordable monthly expense. 
WordPress Website Builder
Easy Drag & Drop Content Editor
When we say all of our websites are fully customizable, we truly mean it.  We have partnered with the World's Leading WordPress Page Builder, Elementor.  Elementor is an intuitive WordPress plugin that adds a visual interface allowing full control over your content customization and complete header-to-footer web page building. You can use pre-designed sections, rows, and columns that you can add with a click of a button and then just replace the demo photo and text with your own, it's that simple. Well, it's almost that simple… Elementor was mainly built for developers and web designers like us, so an end-user may have some trouble with the more techie stuff. However, with our pro helpdesk support, you won't have any problem using Elementor to build a beautiful WordPress website.
Fully Managed Website Hosting
Fast, Secure, and Optimized for WordPress!
Rock-solid hosting is critical.  Your website not only needs to load fast, but it also needs to be secure for your sake and your clients.  Fast loading websites are truly important for converting online visitors into customers. If your website is taking too long to load, your website visitor is gone – people are impatient.  Stats show that your website's page load times should be within 3 seconds or less. We do our absolute best to make this happen for all our client's websites. We also take website security very seriously! Every website hosted on our server includes a free SSL certificate, enhanced WordPress firewall & spam filter, as well as real-time virus & malware scanning. We are proud to say that to this day, we have not had any of our websites on our hosting server hacked.
Search Engine Optimization
Get Found on Google with Local SEO!
Search Engine Optimization (SEO) is the process of increasing the quantity and quality of traffic to your website through free, organic, and natural search results on search engines like Google, Bing, and Yahoo.  SEO really is an art and takes a lot of time and knowledge to really reach high search rankings.  This would be one of the hardest things for you to accomplish yourself on your website.  SEO may not be needed for everyone because its primary function is to drive more qualified traffic to a website that converts the traffic into sales. We are aware that SEO isn't necessary for every website because not everyone will be trying to sell a product or service online. But if you are a business owner that is truly looking to increase their website traffic and get more clients and sales online, SEO is critical.
Browse from 150+ WordPress Website Layouts
Get started today for a beautiful website tomorrow.
Please Note: These website layouts are live demos being displayed in an "iframe" environment allowing us to display a quick view of the website layouts without bogging down our website. Sometimes iframe does not render all of the demo content properly or at all. This would never happen with your actual website. If this happens during your demo experience, usually clicking a few different buttons or links will cause it to load properly.
Quick Tip: You can view how your website would look on a smartphone or tablet, just click on the 3 different icons that pop up in the bottom corner of the demo window to switch from desktop, smartphone, and tablet views. Click the "X" in the bottom right corner of the window when you are ready to close out and check out another website layout.
Quick Tip: Click the "X" in the bottom right corner of the window when you are ready to close out and check out another website layout.
and have a beautiful WordPress Website tomorrow!